Library of the Archiginnasio, Bologna, Italy
This travel feature is from Shannon Perry who traveled to Italy with students from San Francisco State University.
The students and I went to Italy for a course comparing nursing and health care in the U.S. with that in Italy. The Archiginnasio is at Piazza Galvani, 1, Bologna, Italy, in the University of Bologna. The photo below was taken of students in the anatomy room where dissections were done. The table is marble so it is easy to clean.
Also in the museum are "Adam" and "Eve". They are wax, life-sized figures. The first figures are nude; the second ones have the skin removed, and so on until the last figures are their skeletons. This is how anatomy was taught. Also in the museum were clay cross sections of the uterus and fetus in various positions. A physician had these made in the mid 1700s to teach doctors and midwives how to handle obstetrical problems. There were over 120 of these clay models. I was amazed because I had no idea that these complications were known that long ago.
The second photo [below] is of the same group in front of the Medical Museum at La Sapienza University in Rome, Italy. Shannon is in the blue. Next to her is Professor Julita Sansoni, an associate professor at La Sapienza University(there are no nursing professors in Italy), a representative of the Italian Nurses Association who spoke to the group about nursing and nursing education in Italy and took the group to the museum. The museum is incredible. One needs to book ahead of time and allow 3 to 4 hours for a thorough tour. In the museum are beautiful apothecary jars that are priceless, a replica of a pharmacy, one of von Leewonhoek's microscopes, something from Galileo, medical instruments from Etruscan and Roman times that look remarkably like instruments of today, and a great variety of other artifacts.
Students were tremendously impressed with both of these museums.
La Colombaia [below] in Florence, Italy, is the villa where Florence Nightingale was born. It is now a convent. On our trip to Italy, the SFSU students and I were given a tour and had tea in the refectory (the nuns' dining room). We are pictured at the side of the villa opening into a garden and overlooking the city of Florence.
Below is a photo of the birthplace of Alice Louise Florence Fitzgerald, who has some things in common with Florence Nightingale. She was born in Florence, Italy, in 1876, of American parents, who went to Italy on their honeymoon and stayed for the rest of their lives. Alice was educated in France, Switzerland, and Germany and spoke French, Italian, German, and some Spanish.
When she was 19, she returned to Baltimore to make her debut. Against her parent's wishes, Alice went to Johns Hopkins Hospital School of Nursing and was admitted by M. Adelaide Nutting. After graduation, she worked at Johns Hopkins, Bellevue Hospital, New York, General Hospital in Wilkes Barre, PA, and Robert Long Hospital in Indianapolis where she established the School of Nursing in connection with the University of Indiana.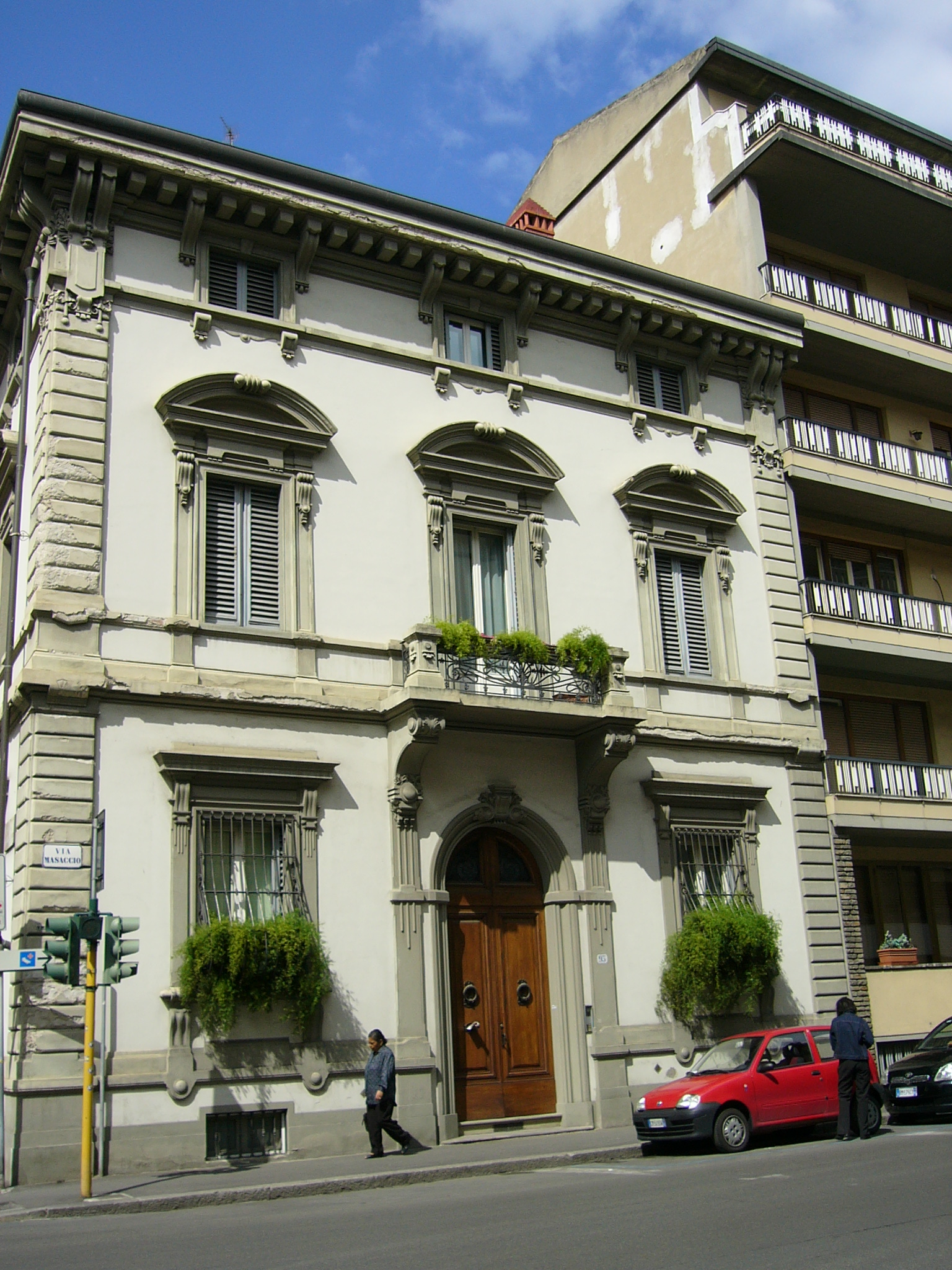 In 1916, Alice joined the British Expeditionary Force (BEF) as the Edith Cavell Memorial nurse. When the U.S. entered the war, she resigned from the BEF and joined the American Red Cross (ARC). She spent most of her career in international work surveying nursing and establishing public health nursing programs. She was chief nurse for the whole of Europe with the ARC and surveyed nursing and helped establish nursing schools. She was the director of the League of Red Cross Societies and established the International Course for Public Health Nursing in London. She was sent to the Philippines by the Rockefeller Foundation to be a nursing advisor to General Leonard Wood.
She received decorations from England, France, Italy, Serbia, Poland, Russia, Hungary, and China and the Florence Nightingale medal, an international medal from the Red Cross.
I learned of her when I saw her photograph in a nursing museum in Bangkok, Thailand, where she was head of a school of nursing.
For further information: Library of the Archiginnasio
Thank you Shannon Perry for this feature!