Postcards make wonderful collectibles: they take up little space and often can be purchased at reasonable costs. They often depict an image of nursing during an era or may just be a reflection of popular culture.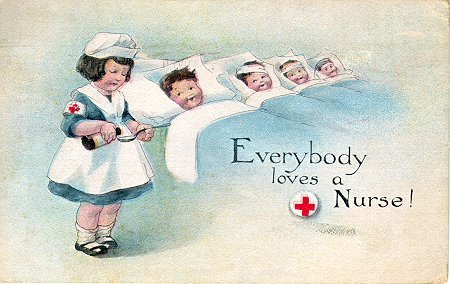 The postcard above was mailed from Galveston TX in November 1917. Signed by Lowell and addressed "Dear sister" he writes that he is busy setting up camp and will write a letter later.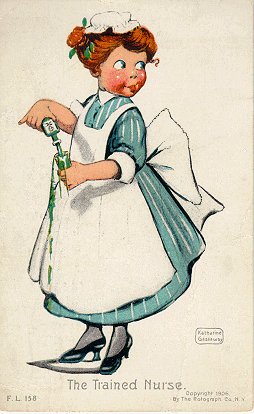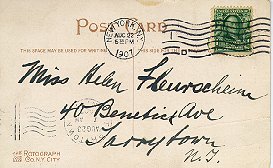 The artist of this postcard is Katherine Gassaway, who specialized in drawings of children. The reverse of this postcard shows the postmark but gives no indication of any message.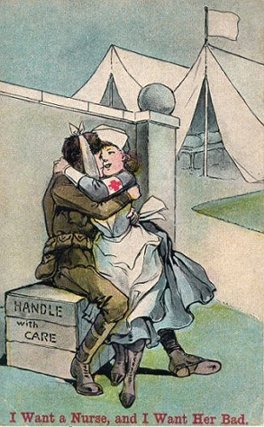 The year is not evident on the postmark of this card. Sent within the state of Massachusetts, Florence sent it to Paulene stating she was having a wonderful time and hoped the couple on the card weren't sitting on a box of eggs.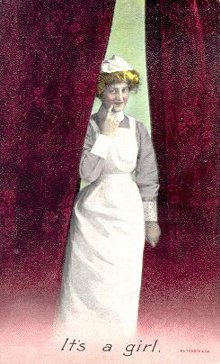 The card above was a birth announcement used in early 1900's. The message reads:
"on 12/3 11:30 PM. Both doing well."
The postmark is 10:30 PM December 5 19__; the exact year in not legible.
For more information:
Michael Zwerdling, M. (2003) Postcards of Nursing: A Worldwide Tribute, Lippincott