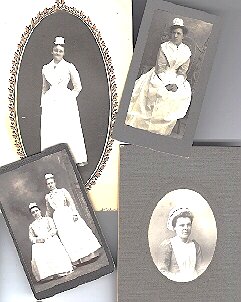 Old photographs of nurses can be found in many places and at many prices. Bins of old photos at antique shops may yield photos such as the ones above. Only one of the photos above is labeled - the one in the bottom right is signed "With love from "Per." May 19, 1901."
More rare is the stereoscopic photograph below, both because of the form and the subject: photos of nurses with their patients were a bit less common than the pictures of individuals or classes. It must be assumed that such photographs were staged or carefully posed. The text from the back of the photo is below and also sounds like propaganda to reassure the public that the wounded were being well cared for. Although it is not dated, it is assumed to be circa World War I.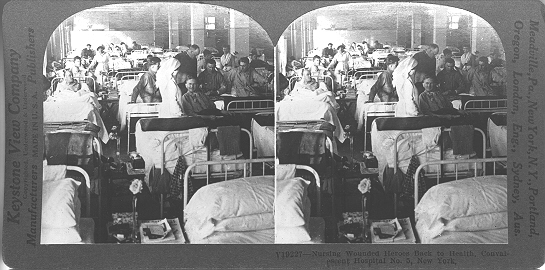 Nursing Wounded Heroes Back to Health, Convalescent Hospital No. 5, New York.
"This hospital ward was one of ten separate and complete hospital organizations that made up Debarkation and Convalesent Hospital Number 5, at the Grand Central Palace, New York City. It normally accomodated over 3,400 patients.
There is evidence on every hand of the work of the nurses, medical officers and the Red Cross. With flowers, books, games and candy when allowed, on each bedside table, the wounded men had every encouragement to regaining their health. There are several games of checkers in progress, and the patients well enough to be dressed wander about on visits to the other less fortunate ones.
When the men were strong enough to be sent on, they were sent to hsopitals as near as possible to their own homes, and discharged from there. Unless a man was so unfortunate as to require some special treatment for an injury, which necessitated his being sent to a particular hospital, such as the one for shell shocked in Washington, this was practically the last step toward home.
While the men were kept in these convalescent hospitals, they were often allowed to spend an afternoon at the theater, as guests of the management or the War Camp Community Service. This made the last days of their convalescence easier to bear."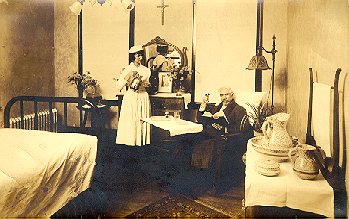 Unidentified nurse with patient