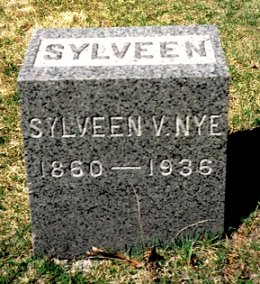 Sylveen Nye was instrumental in early nursing professional organizations when such associations were pioneering licensure and professionalization.
Miss Nye was born in 1860 in the town of Hector, New York, the fifth of eight children of Ebenezer M.W. and Margaret (Sharp) Nye. She was educated in private schools and entered the Indianapolis City Hospital Training School for Nurses in 1888. After graduation she worked in Philadelphia as first, a head nurse and then a night supervisor. Her next position was in Buffalo, New York at the Lexington Heights Hospital. In 1896 Nye began a 30 year tenure with the Buffalo branch of the Women's Department of the New York Life Insurance Company.
It was in Buffalo that she began her work in nursing associations: in 1895 she organized and was first president of the Nurses Association of Buffalo. She also served as president from 1902-1906. This early organization set up a fund to benefit members, private duty nurses who had no benefits, and establish libraries in schools of nursing.
Along with other nursing leaders, Nye was alarmed at the unchecked spread of hospital training schools for nurses which had little formalized curriculum, no standards and no credentialing mechanism to protect the public. Believing that standardization could be achieved through state licensure, Nye was instrumental in founding the first state nurses association (SNA), the New York State Nurses Association. And as leader of the Buffalo Nurses Association, she was in a position to tackle the formation of this trailblazing SNA early in 1900. The first statewide meeting was held in Albany April 1901 and Sylveen Nye was elected the first president of NYSNA.
In September of 1901 the International Congress of Nurses (ICN) met in Buffalo at the World's Pan American Exposition and Nye presented a paper advocating state registration for nurses. She was actively involved with the licensure legislation, although she was opposed to the form of the NYSNA endorsed bill.
In 1926 Nye retired after a distinquished career in nursing. Sylveen Nye died August 16, 1936, at Reading, New York.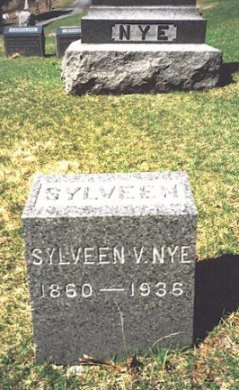 Sylveen V. Nye is buried near her parents in Glenwood Cemetery, Watkins Glen, New York
Publications by Sylveen Nye:
"The Proposed New York State Nurses Association" Trained Nurse and Hospital Review 25 (December 1900): 397-400.
"Official Reports of Societies." American Journal of Nursing 1 (September 1901): 932-34.
"Organization and Legislation for Nurses." Third International Congress of Nurses. Cleveland: Savage, 1901.
"The Bill of the New York State Nurses Association." Trained and Hospital Review 30 (January 1903): 24-28.
Source:
Birnbach, N. (1988). Sylveen V. Nye. In: American nursing: A biographical dictionary, Vol II. V.L. Bullough, V.L., O.M. Church, & A.P. Stein, (Eds.). New York: Garland.