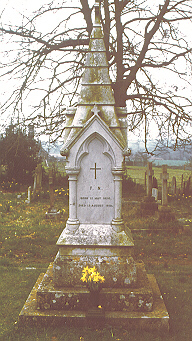 Grave of Florence Nightingale in St. Margaret Church in East Wellow, England
Photo by JoAnn Widerquist
The revolutionary accomplishments of Miss Nightingale are well documented; readers are referred to both the selected list of literature and the Internet resources for background on the life of Florence Nightingale. She was immortalized as the Lady with the Lamp when Henry Wadsworth Longfellow published "Santa Filomena" as a tribute to her activities in the Crimean War.
Acclaimed during her lifetime, Miss Nightingale wanted very little in the way of tributes. Her grave (above) is marked simply " F. N.". Her parents are also buried at East Wellow. There are numerous memorials around the world, the tablet below is in St. Paul's Cathedral, London.
A grateful nation had shown its appreciation in endowing the Nightingale Fund which financed the first school for nurses, the Nightingale Training School which opened in London in 1860.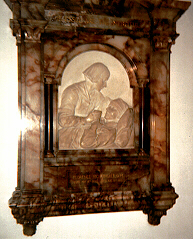 Miss Nightingale's Memorial in St. Paul's Cathedral, London
Photo by Laurie K. Glass
Sources:
Bullough, V., Bullough, B., and Stranton, M. (Eds.). Florence Nightingale and Her Era; A Collection of New Scholarship. New York: Garland Press, 1990.
Cook, E.T. The Life of Florence Nightingale: Vol. I & II. London: The Macmillan Co., 1913.
Calabria, M. & Macrae, J. (Eds.). Suggestion for Thought by Florence Nightingale: Selections and Commentaries. University of Pennsylvania Press, 1994.
Goldie, S.M. (Ed.). "I Have Done My Duty:" Florence Nightingale in the Crimean War 1854-56. Iowa City: University of Iowa Press, 1987.
Macrae, J. (1995) Nightingale's spiritual philosophy and its significance for modern nursing Image: Journal of Nursing Scholarship, 27(1)8-10.
O'Malley, I.B. (1931). Florence Nightingale 1820-1856: A Study of Her life Down to the End of the Crimean War. London: Thornton Butterwort, .
Palmer, Irene S. (1977). Florence Nightingale: Reformer, reactionary, researcher. Nursing Research, 26:84-89.
Slater, V.B. (1994). The Educational and Philosophical Influences on Florence Nightingale, An Enlightened Conductor.Nursing History Review 2:137-52.
Widerquist, J. (1997). " Sanitary Reform and Nursing " Nursing History Review 5:149-60.