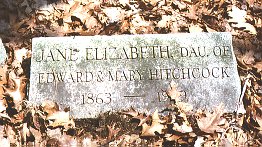 Jane E. Hitchcock is buried in the Hitchcock
family plot in Amherst, Massachusetts.
Jane Elizabeth Hitchcock was a trailblazer in public health nursing. Born 8/1/1863 to Dr. Edward Hitchcock and Mary Lewis Judson Hitchcock in Amherst, Massachusetts she was very well educated for a woman of her era. She attended both the Mount Holyoke Seminary and was a "special student" at Cornell University.
She graduated from the New York Hospital Training School for Nurses in 1891, the same year as Lillian Wald. After graduation Jane returned to Massachusetts and worked as a head nurse at Newton Hospital from 1891-1893.
In 1896 she returned to New York and joined Lillian Wald and Mary Brewster in their settlement house on Henry Street in the Lower East Side of New York City. Here she lived and worked until 1922, actively involved with the development of public health nursing, as first a staff nurse, then later a supervisor at the Henry Street Settlement. Jane Hitchcock has been credited with starting the Metropolitan Life Insurance Company Life nursing program. It was her experience with patients and her observations that the insurance policy holders seen by a nurse had lower mortality rates.
Like many of the Henry Street Settlement staff she was also actively involved in a variety of community and professional activities. She taught public health nursing at the Lincoln Hospital School of Nursing in New York City as well as spoke and published on the development of public health nursing and the profession as a whole.
She was appointed to the newly established (first in the nation) New York State Board of Nurse Examiners and served as its secretary from 1903 until 1919. In this role she helped shape the licensure examination for nurses and made sure that questions about public health nursing were included in the examinations.
During the war time years she directed the American Red Cross Bureau of Placement, Nursing Division. Other professional responsibilities included a stint of emergency nursing service during a typhoid outbreak in Ithaca, New York.
She taught public health nursing at the Lincoln Hospital School of Nursing in New York City from 1922 until her retirement in 1928. She died 4/8/1939 at the age of 76.
Sources:
Hawkins, J. W. (1988). Jane E. Hitchcock In: Dictionary of American nursing biography. M. Kaufman, (Ed.). Westport, CT: Greenwood.
Sabin, L. (1992). Jane E. Hitchcock. In: American nursing: A biographical dictionary, Vol. II V.L. Bullough, Lilli Sentz, & A.P. Stein, (Eds.). New York: Garland.