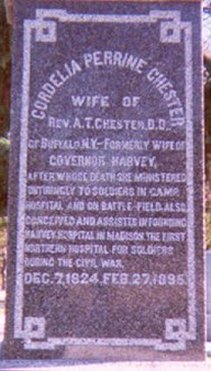 Photo of Cordelia A. Perrine Harvey Chester's grave by Signe S. Cooper
Although not a nurse, Cordelia Harvey's work as a Civil War volunteer earned her the sobriquet "The Nightingale of Wisconsin" and " The Wisconsin Angel".
Cordelia Adelaide Perrine was born December 27, 1824 to John and Mary Perrine - little is known about her early life. She married Louis Harvey in 1847 and he was elected governor of Wisconsin in 1862.
Unfortunately her husband drowned while on a trip to take relief supplies to Civil War troops in Tennessee. Cordelia Harvey was inspired by her husband's last letter to her and she became a sanitary agent for Wisconsin. In this role, she toured military hospitals and cared for the sick and wounded.
Like many of the other women volunteers she was appalled by the conditions in the hospitals. She believed that the wounded men would recover more rapidly if they were sent away from the dangerous air, poor food, and lack of care in the hospitals set up near the battle lines. She herself had become ill and returned to Wisconsin to recuperate. It was during this time she proposed convalescent hospitals away from the battlefields but met resistance.
She traveled to Washington to persuade President Lincoln and Secretary of War Stanton to set up hospitals away from the war front. Lincoln believed that if the men were sent home, they would desert. It took Harvey five visits with the President to convince him of her plan.
Three of the military hospitals were located in Wisconsin, one in Milwaukee, another in Prairie du Chien, and a third, Harvey Hospital, in honor of her late husband, in Madison.
After the war she devoted her energy to children orphaned by the war. After more meetings with powers in Washington, Harvey Hospital was converted to the Soldiers Orphans Home. Mrs. Harvey served as the superintendent from 1866-74.
In 1876 Cordelia Harvey married Rev. Albert T. Chester and moved with him to Buffalo, N.Y., where she taught school until his death. She then returned to Wisconsin and died on February 27, 1895, in Clinton. Both she and her husband, Louis P. Harvey, are buried at Forest Hill Cemetery in Madison, Wisconsin."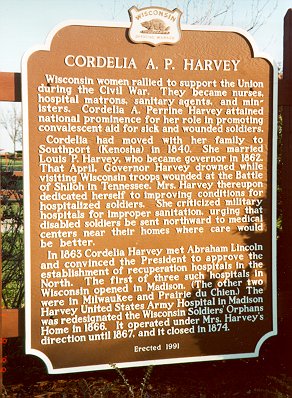 Historical Marker on highway near Kenoska, WI
Photo by Barbara Sonnen
Sources:
(January 29, 1991). Cordelia Harvey 1824-1895. Nursing Matters. Madison, WI: Madison Newspapers.
Mirr, M.P. (1992). Cordelia Adelaide Perrine Harvey. In: American nursing: A biographical dictionary, Vol II. V.L. Bullough, V.L., O.M. Church, & A.P. Stein, (Eds.). New York: Garland.
Wisconsin Historical Society: http://www.wisconsinhistory.org/.