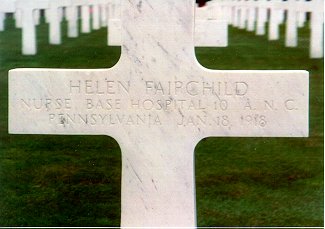 Grave marker for Helen Fairchild in the Somme American Military Cemetery, France.
Photo by Ivan Newman.
Helen Fairchild was a 1913 graduate of Pennsylvania Hospital Training School in Philadelphia. When the United States entered the World War in 1917 Helen joined the Pennsylvania Hospital unit as a nurse. These American Expeditionary Force Base Hospitals included physicians, nurses and dietitians and six such units from across the country departed for France in May 1917 to serve with the British Expeditionary Forces.
The Pennsylvania unit included 64 nurses and in April 1917 she was stationed at British No. 16 but became known as Pennsylvania Base Hospital No. 10. In July she was assigned to Casulty Clearing Station No. 4 at Poperinghe (near Ypres) where she nursed thousands of gassed casualties under fire.
She herself became a casualty, possibly from the exposure to mustard gas and stresses of combat. She died following exploratory surgery; the autopsy listed "acute yellow atrophy of the liver," as a cause of death. Helen Fairchild has been memorialized by the creation of the Helen Fairchild American Legion Post No. 421 in Philadelphia for women veterans. There was also an oak tree planted at Pennsylvania Hospital in her honor.
Helen Fairchild was a letter writer. Many of the letters she wrote in the 9 months she served have been kept and her niece, Nelle Fairchild Rote, has made many of the letters available and has been writing of her Aunt Helen's service.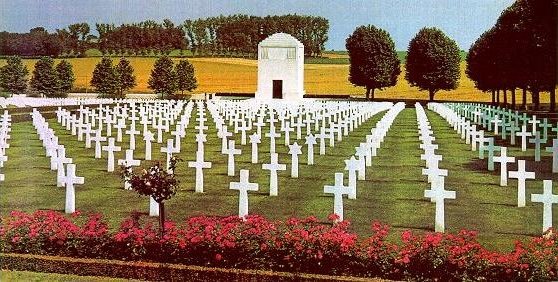 Somme American Military Cemetery, Bony, France
Sources:
Nelle F. Rote, (personal communications, January - May 2000).
Rote, N.F. (1997). My Aunt, my hero. The Daughters of the American Revolution Magazine, 131(9)668-673.
Rote, N.F., Matthews, I. (2000). Helen Fairchild. In: American nursing: A biographical dictionary. Vol III. V.L. Bullough, & L. Sentz, (Eds). New York: Springer.