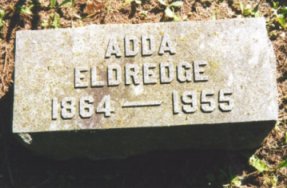 Photo by Signe S. Cooper
Adda Eldredge was a leader in the state registration movement and was a president of the American Nurses Association (ANA) and is a member of the ANA Hall of Fame.
Eldredge was born on November 27, 1864, the last of five children of Charles and Ann Marie (Bishop) Eldredge, in Fond du Lac Wisconsin. She entered St. Luke's Hospital Training School in Chicago, receiving her diploma in 1899.
Like the majority of trained nurses of that era, she worked as a private duty nurse. From 1907 until 1914 she was an instructor at St. Luke's. While at St. Lukes she worked tirelessly to obtain support for the passage of the state's Nurse Practice Act, developing a strong interest in legislative issues relating to nursing. She was honored to be awarded the first license to practice the profession of nursing in Illinois. Her activity received national recognition as she served as the first vice president of the ANA from 1913-15 then president from 1922-26.
Between 1915-17 she was in public health nursing study at Teacher's College, Columbia University. She spent one year at the Association for Improving the Conditions of the Poor in New York City. Between 1917-20 she was the interstate secretary for the American Nurses Association, the National League of Nursing Education and the American Journal of Nursing. She also spent some time on the nursing committee to the Council of the National Defense and the New York State Board of Nurse Examiners.
In 1921, Eldredge was invited to return to her home state of Wisconsin as Director of the Bureau of Nursing Education. Her work improved nursing education and nursing practice by establishing high educational standards for schools of nursing through inspection and accreditation of school, shorter working hours and longer vacations for students, affiliation programs and the employment of well-prepared faculty. She was one of the participants of the Goldmark Report on Private Duty Nursing. It was during this time that she served as ANA president then was actively involved with the ICN.
In 1934, Eldredge resigned from her position in Wisconsin after severe cuts were made in the State's budget. She returned to Chicago as director of the Nurse Placement Service, then teaching nursing legislation at the University of Chicago and later a course in nursing jurisprudence at the University of Minnesota. In 1935 she was awarded the Walter Burns Saunders Medal for Distinguished Service in the Cause of Nursing.
Eldredge died on October 24 1955, at the age of 91. She is buried in Fond du Lac, Wisconsin at Reinzi Cemetery.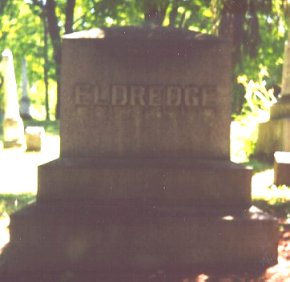 Adda Eldredge is buried in Reinzi Cemetery, Fond du Lac, WS.
Photo by Signe S. Cooper
Sources:
Cooper, S. (1988). Adda Eldredge. In: Bullough, V.L., Church, O.M., & Stein, A.P. (Eds.). American nursing: A biographical dictionary. New York: Garland.
Cooper, S. (10/8/1991). Adda Eldredge 1864-1955. Nursing Matters. Madison, WI: Madison Newspapers, Inc.