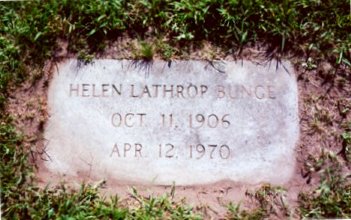 Photo by Signe S. Cooper
Helen Bunge is best known for her promotion of nursing research including her decade as the first editor of Nursing Research.
Born to George W. and Sarah Wheeler Bunge in LaCrosse, Wisconsin. Both of her parents were college educated, and a grandfather was a professor so there was a strong emphasis on education in the Bunge family. She earned a degree in Sociology from the University of Wisconsin in 1928, then entered the University's School of Nursing. After working both as head nurse at Wisconsin General Hospital in Madison, and as an instructor and assistant to the director of the School of Nursing. She completed both graduate degree and her doctorate at Teachers College, Columbia University. While at "TC" she was a colleague of both Isabel Stewart and Adelaide Nutting.
In 1942 Bunge joined the faculty at the Frances Payne Bolton School of Nursing, (Case) Western Reserve University and in 1946 was appointed dean. She is best remembered at Case Western for admitting men into the program, reducing the student work week to 44 hours and requiring a research course in the masters program.
In 1953, she returned to New York to become executive officer of the new Institute of Research and Service in Nursing Education at Teachers College, an innovative program to foster nursing research. During her six years there, the Institute administered 13 projects relating to nursing education and service, including a statewide study of nursing in Wisconsin. She was also chair of the Committee on Research of the Association of Collegiate Schools of Nursing, and these two positions thrust her into the role as the first editor of Nursing Research serving from 1952 until 1962.
Dr. Bunge believed that nurses must be involved in the production and dissemination of knowledge, and in the systematic study of clinical nursing.
In 1959 she returned to the School of Nursing at the University of Wisconsin-Madison, expanding and strengthening the curriculum, doubling the enrollment and developing a graduate program.
Like many other nursing leaders Bunge was actively involved in many professional organizations and served as consultant, writer and speaker. She was the recipient of numerous awards and both the University of Wisconsin and Case Western have awards in her name. She died April 12, 1970.
Sources:
Cooper, Signe. (February 11, 1992). Sister Mary Berenice Beck 1890-1960. Nursing Matters. Madison, WI: Madison Newspapers.
Glass, L.K. (1992). Sister Mary Berenice Beck. In: American nursing: A biographical dictionary, Vol. I V.L. Bullough, O.M. Church, & A.P. Stein, (Eds.). New York: Garland.