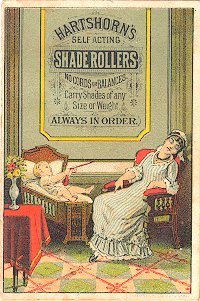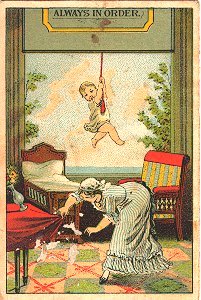 Pictured here is an advertising trade card, which in the 19th century functioned much as print ads, billboards or broadcast media do today. Use of the image of a nurse makes this an interesting collector's items.
Advertising trade cards are highly collectible, most often collected for rarity, unusual forms, and often vivid artwork. As a specific category of these cards, medicines and pharmaceuticals are a much sought after genre. This card does not fall into the medicine category as it is advertising window shades.
Although the exact date of this card is not known, it is most likely around 1880. The use of the term nurse and the image of a "nurse", in this case is an untrained nurse or domestic servant. The graphic on the outside of this card is actually quite whimsical, implying that the window shade is more reliable than the "nurse". The text, pictured below, is inside of the card and is reproduced here: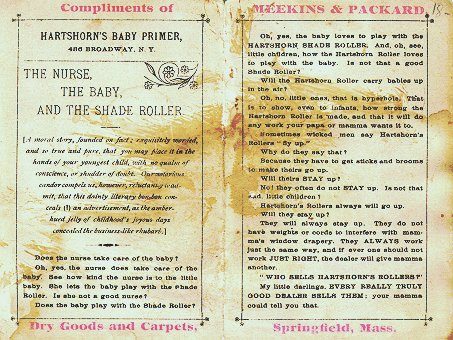 The text of this card promotes a brand of window shades under the guise of a "moral tale"; contemporary readers may find the double entendré amusing.
The nurse, the baby and the shade roller.
(A moral story, founded on fact; exquisitely worded and so true and pure, that you may place it in the hands of your youngest child, with no qualm of conscience, or shudder of doubt. Outright candor compels us, however reluctantly, that this dainty literary bonbon conceals (?) and advertisement, as the amber hued jelly of childhood's joyous days concealed the business-like rhubarb.)
Does the nurse take care of the baby?
"Oh yes, the nurse does take care of the baby. See how kind the nurse is to the little baby. She lets the baby play with the Shade Roller. Is she not a good nurse?"
Does the baby play with the Shade Roller?
"Oh, yes, the baby loves to play with the HARTSHORN SHADE ROLLER. And, oh, see, little children, how the Hartshorn Roller loves to play with the baby. Is that not a good Shade Roller?"
Will the Hartshorn Roller carry babies up in the air?
"Oh, no, little ones, that is hyperbole. That is to show, even to infants, how strong the Hartshorn Roller is made, and it will do any work your papa or momma wants it to."
Sometimes wicked men say Hartshorn Rollers "fly up". Why do they say that? "
"Because they have to get sticks and brooms to make theirs go up.
Will theirs STAY UP?"
"No they often do not STAY up. Is not that so sad, little children? Hartshorn Rollers always will go up."
Will they stay up?
"They will always stay up. The do not have weights, or cords to interfere with momma's drapery. They ALWAYS work just the same way, and if ever one should not work JUST RIGHT, the dealer will give momma another."
Who sells Hartshorn Rollers?
"My little darlings, EVERY REALLY TRULY GOOD DEALER SELLS THEM; your momma could tell you that.