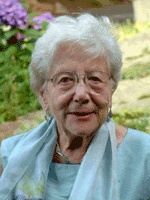 Florence Wald, the visionary leader of the American hospice movement, died November 8, 2008 at age 91. Prior to 1974 there were no hospice programs in the United States. Today, approximately 900,000 patients benefit from hospice care in their homes, hospitals, long-term care facilities, and free standing hospice facilities. Appointed Dean of the Yale University School of Nursing in 1958, she was introduced to hospice by Dame Cicely Saunders, the British physician who organized the world's first hospice in London. In 1966 Mrs. Wald left her position at Yale to focus on setting up hospice in America. She traveled to London to learn about hospice under Saunders and returned to Connecticut where she and some colleagues opened the first American hospice program in 1974. This in-home program was joined by a free standing hospice home in 1980. Mrs. Wald's latest project was the introduction of hospice care into the prison system. Once again begun in Connecticut, inmate volunteers are trained to comfort and care for dying prisoners.
Mrs. Wald was born in the Bronx in 1917. Her nursing career was spurred by her childhood experiences in the hospital for recurring respiratory problems. She graduated from Mount Holyoke College in 1938 and received her master's degree from Yale in 1941. Among her many honors were the Founder's Award of the American Hospice Association and induction into the National Women's Hall of Fame. She was also named a Living Legend by the American Academy of Nursing and received an honorary doctorate from Yale University.
**The information reported above was summarized from an obituary written by Dennis Hevesi, published in the New York Times, November 14, 2008.