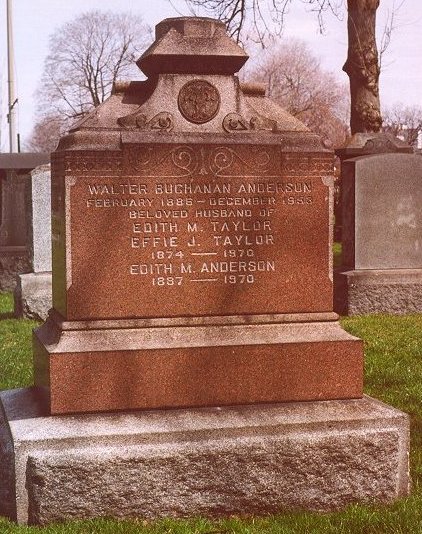 Effie Taylor is buried in Hamilton Cemetery, Hamilton, ONT
Photo by Dr. Natalie Riegler
Born and raised in Hamilton Ontario, Effie Taylor was well educated, attending first the Hamilton Collegiate Institute, then Wesleyan Ladies College. Inspired by the nurses who cared for her father, she entered Johns Hopkins School of Nursing in 1904 graduating with a diploma in 1907. The diploma was the first of many education milestones as she later studied at Teachers College, Columbia University, and Yale's Department of Public Health.
She remained at Johns Hopkins until 1922, working her way up the ladder to associate principal. She took a position as superintendent of Connecticut Training School which was to become Yale University School of Nursing. Between 1926-1944, she was a professor of nursing in psychiatry at Yale and in 1934 became the second Dean of Yale's School of Nursing.
She is also well known for her development and implementation of patient-centered care. Prior to this model, students would be assigned to specific tasks, such as taking vital signs on all ward patients or giving all medications. With the implementation of patient centered care, students were assigned to specific patients.
Closely along the lines of patient centered care was also the emphasis on the emotional and intellectual life of the patient.
But Effie Taylor was actively involved in professional organizations, including international organizations. Her work began locally, as the secretary of the Johns Hopkins alumni association, then as the Secretary of the Maryland State Nurses Association. By 1932 she was president of the National League of Nursing Education, and during her four year term, A Curriculum Guide for Schools of Nursing (1937) was being developed. In 1937, she became president of the International Council of Nurses (ICN) in 1937, and served during the war years.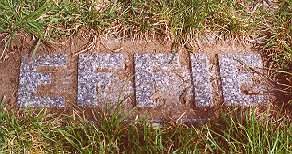 Photo by Dr. Natalie Riegler
Sources:
Church, O.M. (1988).In: V.L. Bullough, Church, O.M.,& Stein, A.P. (Eds.). American nursing: A biographical dictionary. New York: Garland.
Friedman, A.H. (1988). Eufemia A. Taylor. In: M. Kaufman, (Ed.). Dictionary of American nursing biography. Westport, CT: Greenwood.