| Part 2: US Stamps | Part 3: Clara Maass First Day Covers |
Postal stamps are a practical way that countries can honor individuals or subjects. The United States has had far fewer postal stamps commemorating nursing than other countries. A number of nursing historians have presented stamps as historical research at Annual AAHN conferences, generally focusing on the image of nursing presented by stamps.
| | | |
| --- | --- | --- |
| 1958 Canadian stamp "Health Guards the Nation" | 1961 Columbian stamp honors Manuelita de la Cruz, Red Cross nurse who drowned while on duty during floods of 1955. | 1964 Colombian stamp honors Red Cross nurses. |
| 1953 Netherlands stamp honoring Red Cross nurses | 1966 Upper Volta stamp depicting nurse as symbol of Red Cross helping the world | Circa 1970's Honduras stamp honoring Red Cross nurses |
| 1951 Cuban stamp honoring Clara L. Maass; issued on the 50th anniversary of her death. | | |
All of the above stamps are courtesy of either Eleanor K. Herrmann, R.N., Ed.D., FAAN, AAHN's President-elect or Dolores Heinzmann, RN, both serious collectors.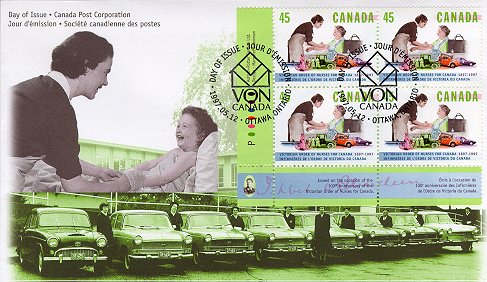 Victorian Order of Nurses Day of Issue Cover This Canadian stamp was issued 5/12/97 to mark the centennial of the Victorian Order of Nurses. Cour tesy of Dr. Peggy Jean Ledbetter.
For further information:
Forrester, D. A., Grandinetti, P.M. (1991). Nursing. The American Philatelist. 105(6)710-717.
A number of postage stamps have featured Florence Nightingale;
Nightingale Stamps