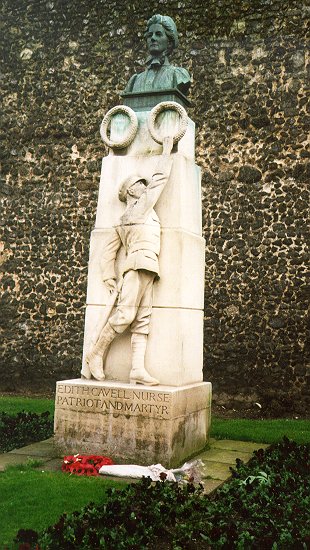 Patriotism is not enough.
I must have no hatred or bitterness for anyone.
These words were spoken by Edith Cavell on the eve of her execution by a German firing squad. Miss Cavell, sentenced for treason, was executed by firing squad in a rifle range in Belgium October 12th, 1915.
The execution of a British woman galvanized public opinion and probably few knew much about her prior to her execution. Born first of four children in Swardeston, daughter of the vicar, Reverend Frederick Cavell.
Miss Cavell worked in Belgium as a governess but trained as a nurse in London after nursing her father during an illness. As a trained nurse she again traveled to Belgium where she was placed in charge of Brussels' first training school for nurses in 1907.
During the war the school and hospital were used for treating soldiers, both British, French, Belgium and German. It was when British soldiers sought refuge and a safe passage out of Belgium that Miss Cavell entangled herself in an underground network. After her capture she was imprisoned for ten weeks before her sentence was carried out.
She was initially buried at the execution site but after the end of the war was moved to her family home in Norfolk. Memorials to Miss Cavell abound, including a mountain in Canada, the school she founded in Brussels , monuments and stamps.